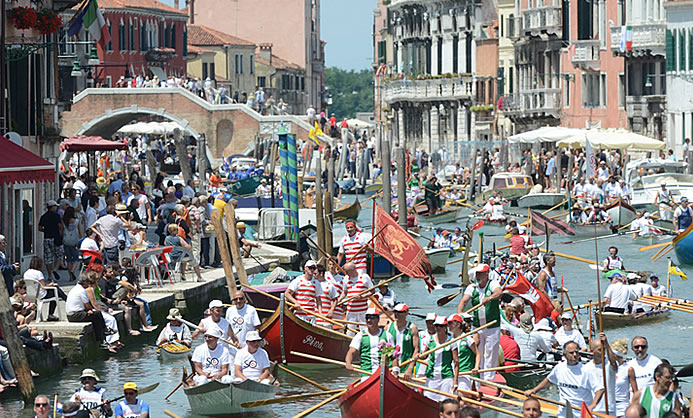 The Vogalonga is a non-competitive 30 km rowing tournament in which boats of all shapes and types can participate, and which each year welcomes thousands of Venetian and foreign rowers.
The 2020 edition will take place on Sunday 9th June The course winds its way through the most fascinating sites of Venice's laguna.
Any type of row boat can participate, without limitations in weight, size, or number of rowers.
On arrival, all competitors who have completed the entire course will receive a commemorative medal and diploma attesting their participation.
Founded 46 years ago by a group of Venetian rowing enthusiasts, the Vogalonga has grown continuously in terms of participants, especially foreigners, reaching 1500 registered boats.
The program: from the early morning hours, a great number of boats of all shapes and sizes gather in Bacino San Marco in front of Palazzo Ducale, waiting for the starting signal to begin a route of approximately 30 km, which winds its way through the islands of the laguna, re-entering Venice through the Rio di Cannaregio, and finally arriving at Punta della Dogana.