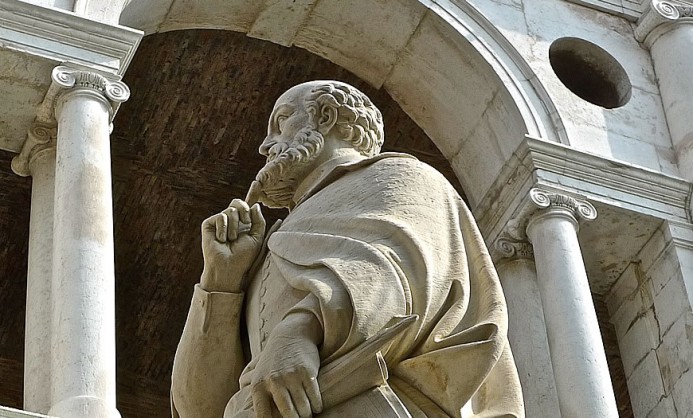 Vicenza, birthplace of Andrea Palladio, is a beautiful city with many interesting buildings and attractions. You can head through the city on a nice walk from west to east along the Corso Andrea Palladio, all the while passing by the most important and most famous attractions of Vicenza.
From the Basilica Palladiana over the Teatro Olimpico and the Palazzo Chiericati to the many magnificent palaces on the main roads you can enjoy the attractions, all of which are located close to one another.
Within the old town of Vicenza there are the most beautiful and most important monuments and works of Andrea Palladio. You should budget about half a day to do this tour.
The city walk starts at the Piazza del Castello, where the remains of the old Scaliger Castle are located. From here the route leads along the Corso Andrea Palladio, past the Palazzo Thiene Bonin Longare and the Palazzo Prot Breganze.
After 200 metres along the beautiful palaces, the Corso Antonio Fogazzaro branches off to the left. Stop here for a brief visit of the Palazzo Valmarana Braga Rosa and the church San Lorenzo.
Back on the Corso Andrea Palladio, right across from the Corso Antonio Fogazzaro, you can walk along the Contra Pasini to the Piazza Duomo and the cathedral of Vicenza.
On the east side of the Piazza Duomo, you can follow the road to the Piazza dei Signori with its monumental Basilica Palladiana. It is worthwhile lingering a little here and to enjoy the wonderful atmosphere of Vicenza.
Over the Contra del Monte you finally reach the Corso Andrea Palladio again, which you can cross directly to have a quick look at the beautiful palaces in the Contra Porti.
You continue along the Corso Andrea Palladio up to the church of Santa Corona, where you can admire the original tomb of Palladio and some beautiful paintings by Bellini and Veronese.
Finally, you reach the Piazza Matteotti, with the Palazzo Chiericati and the art gallery of Vicenza and the Teatro Olimpico.
Palladian Routes Vicenza
(See more: www.vicenzae.org)