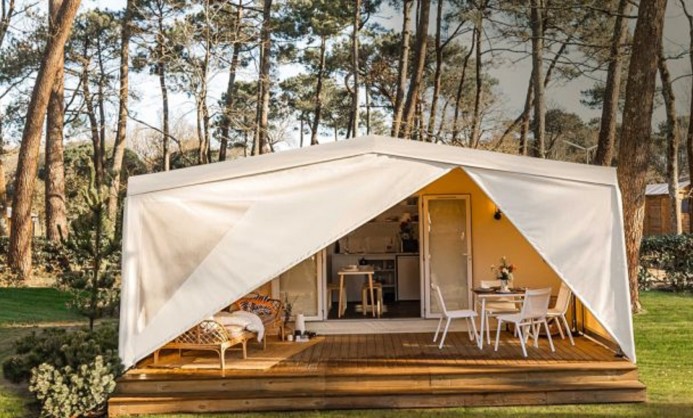 Coco Sweet tent is a new way of experience life on a campsite, a brand new type of leisure accommodation designed as a fun, a stylish alternative to traditional tents and mobile homes, with a particularly attractive and affordable option for hosting up to four people.
Coco Sweet is simply a tent that has a metal-frame structure, wood flooring and polycarbonate walls , very functional and welcoming, funny and confortable , fully equipped. It has an area of 16 square meters (16m² – 5.60 x 3m) and veranda with a platform .
It consists of kitchenette, a bedroom with double bed, a room with 2 banquettes convertible, a large veranda with awning. They are fully furnished with fridge, table, stools, storage space, privacy drape, insect screen.
The Coco Sweet tent ARE EQUIPPED with:
• Living room with double door with lock , closed cabinet with 3 shelves , fridge, foldaway table with 4 stools ;
• Room with a double bed (140 x 190) , 2 pillows, a bedside table , blackout curtains, a shelf with 3 shelves with hangers ;
• Living-room/bedroom with 2 benches that can be turned into 2 single beds (80×190) , blackout curtains , 2 storage cases under the bed ;
• Sheets, blankets and pillows ;
• Dishes and utensils for preparing meals ;
• Electricity ;
• Parking for the car.
The Coco Sweet tent ARE NOT Equipped with:
• Toilet/wc, hot showers , sinks, dishwashers, foot-wash, available for free at the block of collective toilets ;
• Towels which can be rented by the Camping, on payment ;
• Air conditioned.