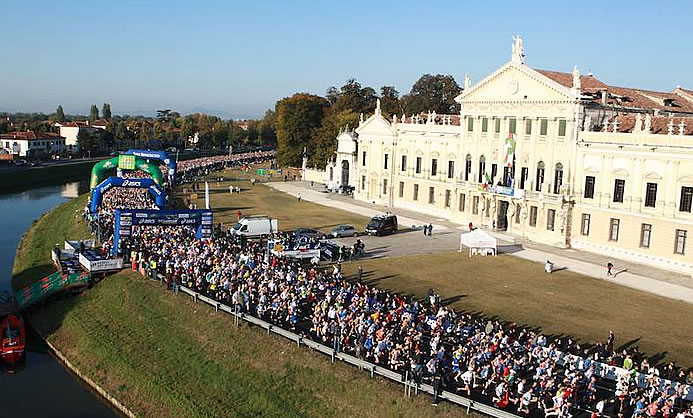 35° Venice Marathon – 25th October 2020
The Venicemarathon, now in its 34rd year, has earned a place among the most important events of the city. It is a sports event of international standing, attracting over 6,000 runners from all over the world every year.
The marathon is held over the official Olympic distance of 42,195 kilometers (26,224 miles). The course is flat and basically downhill. Start is located in Stra (a small country town about 25 km west of Venice), at the beginning of "Riviera del Brenta", the beautiful riverside area where rich and noble Venetians built their vacation mansions in the 18th century. The finish is in the historic centre of Venice, on the embankment named Riva Sette Martiri, in a scenic position facing the lagoon.
The first part of the route, along the Riviera del Brenta, lays in an environment rich with history, culture and beatiful landscapes, characterized by the numerous Venetian villas facing on the waters of the river. The marathon goes through the centre of Marghera and Mestre, then runs for more than 2 kilometers inside San Giuliano's Park and gets to Venice via the Liberty Bridge (a flat and straight bridge long just a little less than 4 kilometers).
The race proceeds in Venice's renovated port area and reaches the city centre for the last kilometers, which are simply unique and unforgettable. Marathoners run next to the Giudecca Canal to Punta della Dogana, where they cross the Grand Canal on a pontoon bridge, especially built for the race. Passing by Piazza San Marco and the Palazzo Ducale, the marathon route gets to the finish line located in Riva Sette Martiri. Passing through Piazza San Marco (high tide allowing…), near the Belltower and the Palazzo Ducale, the marathon route reaches the finish line located in Riva Sette Martiri.